Het Koetshuis is de ideale ruimte voor vergaderingen of bedrijfspresentaties, de rustieke uitstraling zorgt voor een ontspannen sfeer. Tevens bestaat er een mogelijkheid om op het besloten privé terras (gewenst het weer het toelaat) buiten te vergaderen.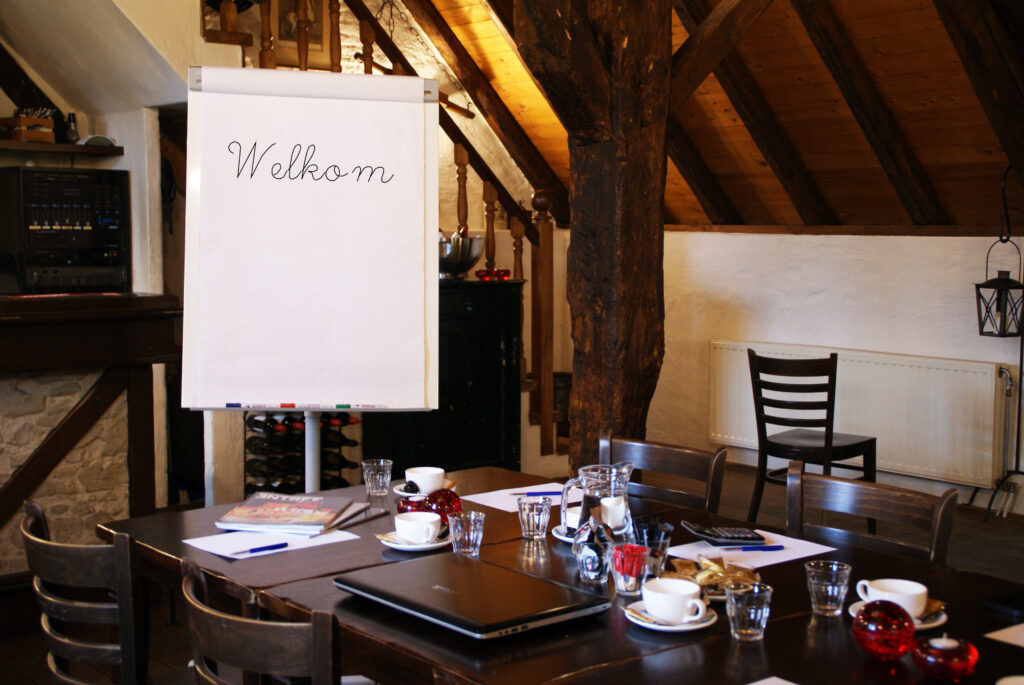 Het Koetshuis
In Het Koetshuis kunnen 20/25 personen aaneengeschakeld vergaderen. In theateropstelling kunnen die ongeveer 40 personen zijn. Er zijn tal van voorzieningen aanwezig: twee flip-overs, stiften, projectiescherm, beamer, geluidsinstallatie, draadloze microfoon, gratis Wifi en verlengkabels.
Ook bieden wij u de mogelijkheid, om na afloop af te sluiten met een borrel en hapjes of de vergadering af te sluiten in de avond met een luxe diner, BBQ of buffet. Alle specifieke wensen vullen wij graag met u in, onze medewerkers kunnen u daarover informeren.
Vergaderarrangementen 'Het Koetshuis'
Ochtend dagdeel
€27.50 per persoon
Ontvangst met koffie en thee
Assortiment roomboterkoekjes
Onbeperkt koffie, thee en water
Afsluitend een uitgebreide koffie tafel in het Restaurant of Terras
Inclusief vergaderruimte
Middag dagdeel
€27.50 per persoon
Ontvangst met koffie en thee
Assortiment roomboterkoekjes
Onbeperkt koffie, thee en water
Afsluitend een uitgebreide koffie tafel in het Restaurant of Terras
Inclusief vergaderruimte
Gehele dag vergaderen
€50.00 per persoon (Combinatie van A en B per persoon)
Vergaderruimte huren
Tot 10 personen € 15.00 per persoon per dagdeel, dranken op nacalculatie
Boven 10 personen € 125.00 zaalhuur per dagdeel, dranken op nacalculatie
Vergaderruimte extra bij te huren
Flip over(incl.papier en stiften) € 10.00
Beamer € 35.00
Groot rolscherm € 15.00